On the other end of piano scale
Source: link
High Fashion… Fluid Forms… Consider this futuristic "Pegasus" piano made by the German firm Schimmel and designed by legendary Luigi Colani himself:
…or a classic upright piano nicely complementing your Porsche (or your SonicAir toothbrush)
We also like this transparent concert piano idea:
Another model "Otmar Alt" that even your kid would love:
Here is a new development: scientist say that it's best to learn piano while playing underwater 😉
or if you set it on fire, you might get a really scorching solo out of it: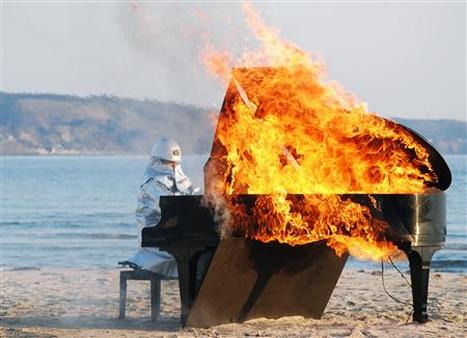 (image credit: Japan Today)
Jazz pianist Yosuke Yamashita plays a burning piano on the beach in Shiga, Japan. Yamashita did the same thing once before in 1973; he would do this every day, given an endless piano supply.
The Ondes Martenot – very strange French keyboard with a plaintive spacey sound
Definitely better sounding than most analog synthesizers, this highly refined instrument has been invented in 1928 by a French radio enthusiast Maurice Martenot. The pure "space bliss" sounds are made by pressing the sensitive button with your left hand (modulating the waves) and stretching the special string assembly with your right hand.
Here is a demonstration of the technique:
Watch Radiohead perform on the Ondes Martenot the techno despair sounds that this instrument was plainly designed to produce. "The Martenot Waves" keyboard was also used in the "Lawrence of Arabia" and "Mad Max" soundtracks.